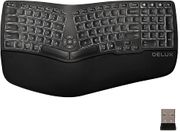 Features
[Curved and Split Ergonomic Keyboard Structure for Natural Typing Posture] Human hand-friendly, designed by following human hands natural posture, compared with a traditional keyboard, typing in a comfortable arm angle instead of contracting the arm to awful typing posture, reducing hands and wrists strain and shoulder pain
[Multi Devices Connection] with 2.4G wireless(come with USB receiver) and BT 5.0 with 2 channels (BT1+BT2), use with up to 3 devices, easy installation and in-fly switching between different decives. And multi-system compatibility, compatible with Microsoft system/Win8/10/Mac os 10.12/Android 4.3 or higher
[1100 mAh Rechargeable Built-in Battery] at a single charge, it can last for 500 hours in continually using with light off, and with full light on, it can offer 6 hours endurance time. There is a battery compacity indicator located in the top-middle of the front side of the keyboard, reminding you of the battery condition
[Decent Keyboard Dimension with Scissor Switches and Low-profile Keycap] Reasonal keyboard and mouse distance, was something importance to be considered when comes to select a ergonomic keyboard, if the distance was too long, you have to shift from the typing to clicking in long-distance, discomforts would be felt and in long term use, that would put more strain to you arm and shoulder
[Decent Keyboard Dimension with Scissor Switches and Low-profile Keycap] Reasonal keyboard and mouse distance, was something important to be considered when comes to selecting an ergonomic keyboard, if the distance was too long, you have to shift between the keyboard typing posture to mouse clicking in long-distance, discomforts would be felt and in long term use, that would put more strain to your arm and shoulder
[Built-in Pillowed Wrist Rest with Skin-friendly Synthetic Leather] Place your hand above it, lift from the ground and support the palm to comfortably keep the hand typing at the same level with the keyboard rather than having to bend the palm or paying more effort to keep the palm lifted for comfortable typing



Specifications
Version: DELUX Wireless ergonomic keyboard GM902A(Black with backlit)
Dimension: 424(L)*232(W)*28(H)mm /16.69(L)*9.13(W)*1.10(H)inches
Net Weight: About 0.94kg
Key Switch: Scissor switches
Key Life: >30 million times
Connection: 2.4G wireless(come with USB receiver) and BT 5.0(BT1+BT2), use with up to 3 devices
Battery: Built-in 1100 mAh rechargeable battery
Battery Endurance: with backlit off, lasting for 500 hours; with backlit on, continually use for 6 hours
Operating System: Compatible with Microsoft system/Win8/10/Mac os 10.12/Android 4.3 or higher

Package Included:

1 x DELUX GM902A ergonomic keyboard black
1 x Detachable Type-C cable
1 x User manual



Part#
DELUX-GM902A
DELUX-GM902



For CLEARANCE items click here
** If you don't find the item your looking for contact us. We're here to help.:**
---
**30 Day Money Back Guarantee.**


www.ergoguys.com

Sales-602-354-4190

Page layout and design and Ergoguys name and logos Copyrightę 2016 Ergoguys LLC®. All product names are copyright or trademarked by their respective owners.
Ergoguys accepts Purchase Orders from Educational Institutions, Libraries and Governmental bodies. Please fax us at 602-296-7192. For more information please contact sales.

Click to verify BBB accreditation and to see a BBB report.