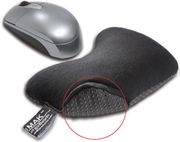 Ergonomic Wrist Support with Grip

IMAK®'s Non-Skid Mouse Cushion* offers all of the same benefits as the original mouse cushion, with the added benefit of a non-skid bottom, so it stays firmly in place while you work. Massaging ergoBeads™ fill the mouse cushion to offer comfortable support for your wrist.

IMAK's Non-Skid Mouse Cushion's unique design completely supports your wrist and forearm in an ergonomically correct position, so you avoid repetitive motion injuries and stress. The ergoBeads inside the cushion massage your wrist as it moves with the mouse, adding even more comfort!

Key Benefits:
Cushions and massages your wrist
Cool and comfortable
Squeezable for stress relief
Freezable for extra cooling relief


*Does not include mouse.



Part #A10174



For CLEARANCE items click here
** If you don't find the item your looking for contact us. We're here to help.:**
---
**30 Day Money Back Guarantee.**


www.ergoguys.com

Sales-602-354-4190

Page layout and design and Ergoguys name and logos Copyright© 2016 Ergoguys LLC®. All product names are copyright or trademarked by their respective owners.
Ergoguys accepts Purchase Orders from Educational Institutions, Libraries and Governmental bodies. Please fax us at 602-296-7192. For more information please contact sales.

Click to verify BBB accreditation and to see a BBB report.