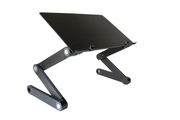 The WorkEZ PROFESSIONAL Black - is a ergonomic compact, multi-functional laptop desk.

An incredible stand that holds laptops, tablets, monitors & books just about everywhere!

From sitting to standing, Professional raises screens to eye-level, gets your computer off your lap & keeps it cool

3-section articulating legs accordion up & down holding devices in the most comfortable position
push-button joints rotate the panel for optimal viewing pleasure
The perfect laptop cooling stand, lap desk, and a simple laptop standing desk
Same functionality as Executive, but in a slimmer more-compact package
Computing never felt this good!

The Perfect Lap Desk for Slimmer Folks!


Gets your computer off your lap & keeps it cool.
Easily adjust the screen to the perfect viewing angle!
Slips over your lap so you can move your legs around freely.
Perfect on the couch.
All-aluminum construction is lightweight & stable

Stand Up & Get Healthy!


Convert any desk or table into a laptop standing desk.
Elevate the panel to any height - up to 18"!

Not Just For Laptops:

Professional supports books, tablets, iPads, monitors, e-Readers and just about anything else under 13lbs.

Specifications:
Material = Aluminum
Panel Size = 16" by 11"
Folded Size = 19" by 11" by 2"
Height Range = 0"-18"
Weight ~ 3.5 lbs
Max Load < 13 lbs


Part# WEPB





For CLEARANCE items click here
** If you don't find the item your looking for contact us. We're here to help.:**
---
**30 Day Money Back Guarantee.**


www.ergoguys.com

Sales-602-354-4190

Page layout and design and Ergoguys name and logos Copyrightę 2016 Ergoguys LLC®. All product names are copyright or trademarked by their respective owners.
Ergoguys accepts Purchase Orders from Educational Institutions, Libraries and Governmental bodies. Please fax us at 602-296-7192. For more information please contact sales.

Click to verify BBB accreditation and to see a BBB report.